Who Are Your Heroes? And Why?
by William S. Frank, President/CEO of CareerLab®
The Heroes Section of the Author's Bookshelf
"Who are your heroes?" is s a typical interview question, and recruiters tell me that the most frequent answers are Jack Welsh, Bill Gates, and Steve Jobs. Yes, they're industry titans, maybe business people to emulate, but are they heroes?
To me a hero doesn't just gain market share by trouncing their competitors. A hero does something heroic: dives into a raging river to save a drowning child, parents a brother with Lou Gehrig Disease (ALS), or injures oneself or dies trying to save another.
There are at least two kinds of heroes: public and private. The public is Mother Teresa. The private may be the one only you or I know about: the single mother next door working two or three jobs to support her children. The father caring for his quadriplegic adolescent.
There's a section on my bookshelf called "Heroes," pictured above, and these are 10 books included in the collection:
1. Victor Frankl author of Man's Search for Meaning. After having been stripped of everything in his life, his life's work (a manuscript) destroyed and his family killed, Frankl survived the Nazi death camps. He learned that survivors had two traits: 1) they looked out for others. Even though starving themselves, they shared their bread crusts, and 2) they were anchored in the future. They wanted to finish writing a book, re-unite with a family member, or achieve a goal. Every page is underlined.
2. Solomon Northup, a black free citizen of New York, was kidnapped in Washington City in 1841, thrown into slavery, and rescued in 1853, from a cotton plantation near the Red River in Louisiana. To be required to be in the field working at sunrise, to take only 10–15 minutes for lunch, and to stop work when it's too dark to see. And when the moon is full to labor into the middle of the night. And then to return home to feed the mules, cut firewood, grind corn prepare tomorrow's meals. Imagine a life like that with only Christmas day off, and you'll understand slavery. I liked the Academy Award-winning movie 12 Years a Slave so much, I bought the book; it's even better.
3. I've seen hundreds, perhaps thousands of videos, and so have you. Bill Porter suffered birth damage and couldn't be hired at traditional jobs. He fought to sell brushes door to door, succeeded against terrible odds, and left a path of heartwarming love in his wake. Unable to button his cuffs and collar or tie his own shoes, Bill rides a bus to a hotel where the bellman does it for him. Try watching that without a catch in your throat. This has to be my favorite 15-minute clip of all time. I saw it first on December 12, 1997, and liked it so well I contacted CBS and purchased a video cassette of the segment. Now it's available free online. No matter how you're feeling: exhausted, frustrated, happy, excited, hopeful, confused, or sad, this will stir your heart. A Moving Journey: Bill Porter http://www.youtube.com/watch?v=L8LnvfpeQDA (or) http://goo.gl/zKUPVp
4. Rick Rescorla, head of security at the World Trade Center stayed with the building and helped hundreds escape the falling towers on 9/11, even though by doing so he died himself. After reading Heart of a Soldier by James B. Stewart, I wondered if I'd die for others. In my mind, one who does is a hero.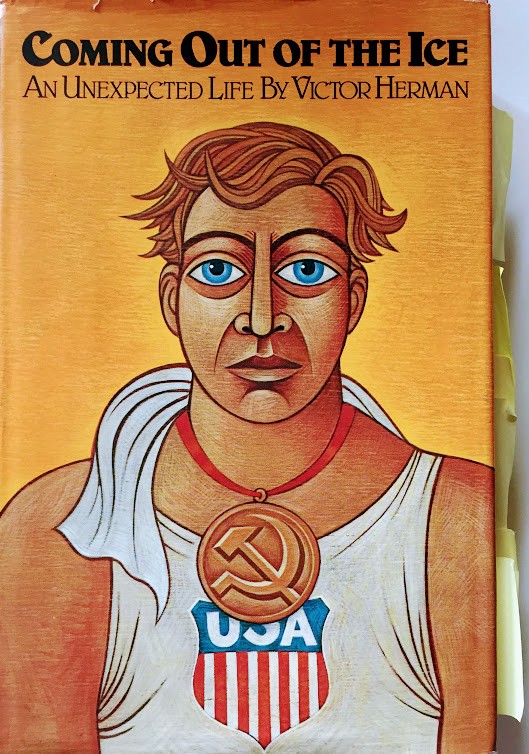 5. Victor Herman went to Russia as an adolescent with his father, set a world skydiving record, and claimed it for America. The Russians wanted the record, so imprisoned Herman in the Gulag for most of his adult life. Coming Out of the Ice: An Unexpected Life by Victor Herman is his inspiring story. And yes, he barely made it back to America.
6. And speaking of Gulags, you couldn't find a stronger hero than Aleksandr Solzhenitsyn, winner of the Nobel Prize, author of The Gulag Archipelago, which Time magazine called "the best book of the 20th Century." Who can forget Solzhenitsyn's claim that the line of evil is not isolated to a few humans: it runs through all of us?
7. After the death of his wife, Peter Matthiessen trekked 250 miles through the Himalayas, and recorded his journey in The Snow Leopard. Dubbed "the writer's writer" because of the poetry of his prose, Matthiessen recounts the emotional-physical-spiritual journey day-by-day. Open the book to any page and you'll find a masterpiece: "A rooster and a barking dog, the sting of sticks on the hard flanks of the cattle, the cry of the village termagant, unceasing, is the voice of autumn twilight in every peasant village across time." (P 120)
8. Legendary UCLA basketball coach, John Wooden, is in here, but not because of basketball, which I rarely watch. He's here because of his character and leadership style, and "the Pyriamid of Success" best described in Wooden on Leadership: "Wooden won 10 national championships (a record), including seven in a row (a record); 88 consecutive victories (a record); four perfect seasons (a record) with only one losing year — his first — in 41 years of coaching." Wooden never talked to his teams about winning, only about being the best players they could be. Every page is marked and the book is dripping with post-it notes.
9. I saw a CBS Sunday morning segment on Louis Zamperini, the Olympian and "Unbroken" war survivor and liked it so much I bought Laura Hillenbrand's book, Unbroken. Didn't watch the movie; after the book the movie would have disappointed. Zamperini demonstrates surviving when survival is impossible. Hillenbrand herself is a hero, suffering from chronic fatigue syndrome and barely able to function as she wrote this bestseller. Ditto as she wrote Seabiscuit: An American Legend.
10. Three heroes built the Brooklyn Bridge in New York: John, Washington, and Emily Roebling. The father, John, a German-American engineer, began the bridge. When he was fatally injured working on it, his son Washington took over. When Washington got the bends working on the foundations underwater in caissons, and became an invalid, his wife Emily spearheaded the project to completion. Mix that with the political climate, which was an ongoing war for and against the bridge, and for and against the Roeblings, and you've got an heroic journey. After reading The Great Bridge by David McCullough, I felt compelled to walk the bridge, and I crossed it in a burst of joy on a star-filled night on November 24, 2014.
Those are some of my heroes. I'm prepared for the interview question. Who are yours, and why? The next time you're in an interview and asked, "Who are your heroes?" you could say Jack Welsh, Bill Gates, and Steve Jobs. Or you could think deeper and answer differently.